Article Commentary
Commentary
Family Medicine Hospitalists Three Years Out of Residency: Career Flexibility or a Threat to Office-Based Family Medicine?
Ramon S. Cancino

and

Brian W. Jack
The Journal of the American Board of Family Medicine
September 2018,
31
(5)
677-679;
DOI: https://doi.org/10.3122/jabfm.2018.05.180203
In this issue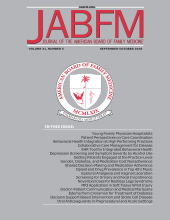 Jump to section
Related Articles
No related articles found.
Cited By...
No citing articles found.
More in this TOC Section
Similar Articles