Emergency Ophthalmology—A Rapid Treatment Guide. Edited by Kenneth Chern. 297 pp. New York, McGraw Hill Professional, 2003. $59.95. ISBN 007-137-325X.
The Journal of the American Board of Family Practice
September 2003,
16
(5)
469;
DOI: https://doi.org/10.3122/jabfm.16.5.469-a
In this issue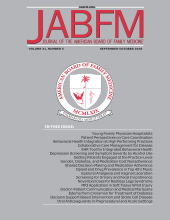 Jump to section
Related Articles
No related articles found.
Cited By...
No citing articles found.
More in this TOC Section
Similar Articles