Clinical Manual of Emergency Pediatrics. Fourth edition. Edited by Ellen F. Crain and Jeffrey C. Gershel. 762 pp. New York, McGraw Hill, 2003. $39.95. ISBN 0-07-137750-6.
The Journal of the American Board of Family Practice
September 2003,
16
(5)
468;
DOI: https://doi.org/10.3122/jabfm.16.5.468-a
In this issue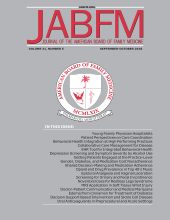 Jump to section
Related Articles
No related articles found.
Cited By...
No citing articles found.
More in this TOC Section
Similar Articles