Research Article
Original Article
Antibiotics for Upper Respiratory Tract Infections in Ambulatory Practice in the United States, 1997–1999: Does Physician Specialty Matter?
Olivier T. Rutschmann

and

Marisa Elena Domino
The Journal of the American Board of Family Practice
May 2004,
17
(3)
196-200;
DOI: https://doi.org/10.3122/jabfm.17.3.196
In this issue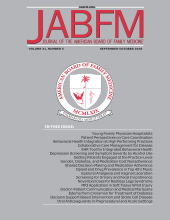 Jump to section
Related Articles
No related articles found.
Cited By...
More in this TOC Section
Similar Articles