Family Focused Behavioral Pediatrics. First edition. By William Lord Coleman. 322 pp. Philadelphia, Lippincott Williams & Wilkins, 2001. $32.95. ISBN 0-7817-2857-6.
The Journal of the American Board of Family Practice
September 2003,
16
(5)
469;
DOI: https://doi.org/10.3122/jabfm.16.5.469
In this issue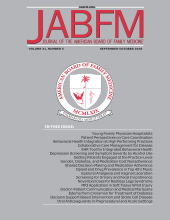 Jump to section
Related Articles
No related articles found.
Cited By...
No citing articles found.
More in this TOC Section
Similar Articles